Featured Call of the Month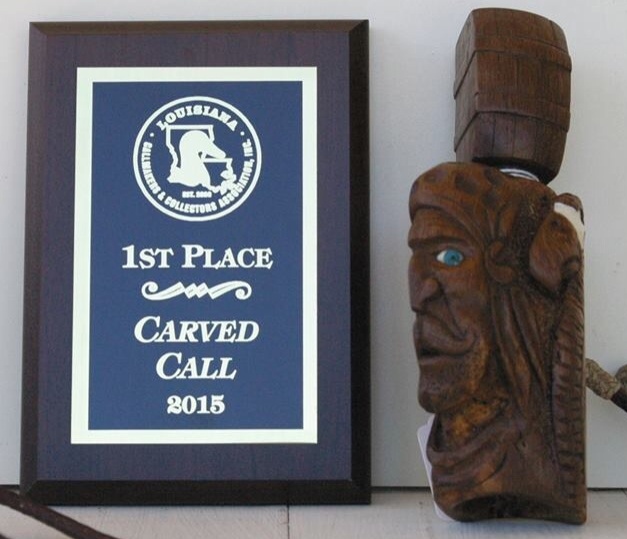 Len Yule
Oklahoma

In celebration of the Louisiana Callmakers Annual Meeting & Show, we are featuring this First Place Call (Carved Division) by Len Yule. Though Len now lives in Oklahoma, the Yule family will always be fondly associated with Louisiana and the tremendous talent represented there.
President's Note
The 39th annual National Wild Turkey Federation event (NWTF) in Nashville recently concluded. It was a huge success once again! Over 48,000 people (a new record!) gathered over 3 days to see every gear company, gun manufacturer, celebrities, decoy guys, guiding services, and let's not forget a fantastic working class and decorative class callmaking contest sponsored by us! It was a great opportunity to learn, have fun and be entertained. Congratulations to all the winners of this year's competition. The entries were nothing short of amazing. You can find them listed here at...
http://www.nwtf.org/special_events/post
_convention_callmaking.html
It's time to start gearing up for the
50th Anniversary of the North American Vintage Decoy and Sporting Collectibles Show
in St. Charles, IL...April 21st-25th...at The Pheasant Run Resort. This is the largest gathering of its kind in all of North America. From a callmaking standpoint, this show and the NWTF are the "Top Gun" events of the year! You can find all the info at
http://www.nadecoycollectors.org/index-3.html.
Or, just click on the banner on this page.
Finally, you should've received your annual dues notice by now. Please be sure to renew right away so you don't risk missing our next (new and improved) full color newsletter issue. You won't be disappointed. Thank you!
All the best,
Rick Milligan
President