Featured Call of the Month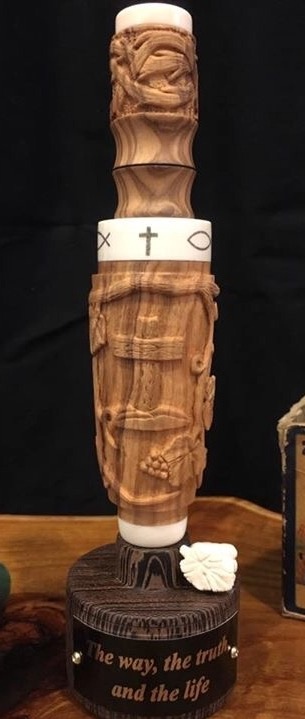 Shane Gilliland
Arab, Alabama
Shane is among the group of very talented up and coming decorative call makers. The contemporary designs of Shane's carved calls have a very elegant eye appeal to them, and it was hard to select one of his calls for the call of the month. Shane won the Dennis Poeschel Design Award in February at the NWTF contest. The call of the month pictured for September, is a fitting theme for his CWA contest entry. Keep up the great work Shane, and can't wait to see some more of your calls!

President's Note
Summer is winding down, which means that hunting seasons are right around the corner! And it also means that CCAA's working duck call contest at Reelfoot is quickly approaching. The rules have been slightly adjusted this year, so check out the rules page for the latest changes. http://www.ccaacalls.org/working_rules.php The contest will be on October 8th, as part of the Fin and Feather Expo at the Blue Bank Resort on the south side of the historic Reelfoot Lake in Tennessee. Just a few vendor spots are still available for the show, and if you'd like to reserve a booth, please get in touch with the event coordinators Rob Hurt or Mike Hayes at the Blue Bank Resort http://www.bluebankresort.com/
The summer edition of the CCAA Newsletter is starting to firm up. We are needing a few more article submissions to fill out this newsletter. If you have an article that you would like to submit, fill out the following form and it will be received by our Editor Eric Nelson. submit article link
Remember to block off your calendars for October 7, 8, & 9 for the Reelfoot show. Hope to see you there!
Cheers,
Brian Byers
President