Featured Call of the Month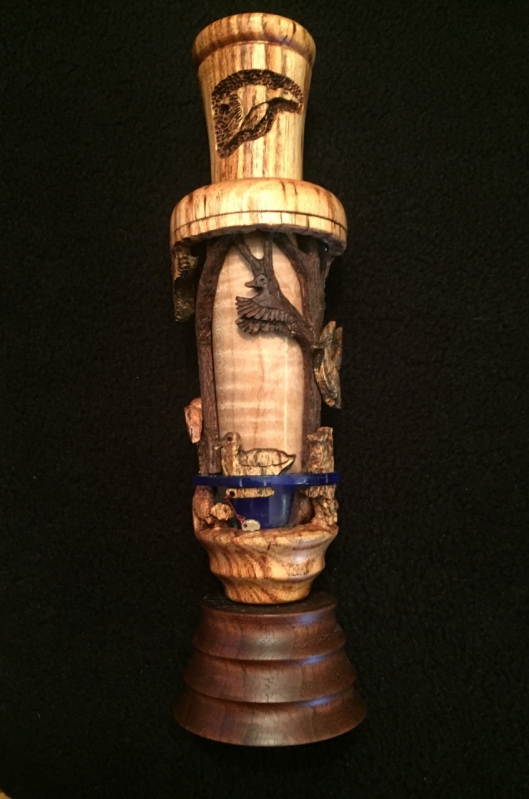 Kevin Rathjen
Jacob, Illinois
Kevin has been on the decorative call making scene for just six short years. You mainly get to see his decorative calls that he makes down at the NWTF competition in Nashville. Kevin has taken home the second place award the last two years in the carved category, with some beautiful works of art. He is one of the most genuine and nicest guys you will ever meet, and makes some fantastic looking calls. The call pictured here will be on display and available through the silent auction at the Southern Illinois call show in DuQouin Illinois on August 5th and 6th.
President's Note
The St.Charles show is all wrapped up now. Some of the best calls, let me rephrase that, absolutely the BEST calls in the country were showcased at the show. Special thanks goes to James Bennett for putting together another fine auction, that provides our members a chance to sell and buy some very collectable calls. The other highlight of the show, is the Fancy Call Contest. This year there were 75 calls entered into the show. An amazing display of talent is always showcased at the contest. These amazing works of art are made by the most talented craftsman in the country. Brad Wilsted's carved entry took home the Best of Show award, and Jeremiah Cluesman's open class entry took home the Best of Amateur class award. Congrats goes out to Brad and Jeremiah, as you guys sure earned it with all of the incredible calls entered this year!
I'd also like to give a special thanks to Rick Milligan, as he concludes his 2nd and final year as the President of the organization. The organization is as strong as ever with a bright future to look forward to. Officer elections took place at the membership meeting at St.Charles this year. Brian Byers was elected President, Mike Lewis was elected Vice President, and Troy Taylor was elected Secretary. Rick Milligan was also elected as the Treasurer, and will also fulfill the duties at the Membership Chair. Congrats to all of the new officers, and if there is anything that we can do to help, please feel free to contact us. There are some exciting things in the works for the organization, and it's going to be a fun time the next couple of years.
Remember to block off your calendars for October 7, 8, & 9 for the Reelfoot show. I always look forward to the Reelfoot show. Hope to see you there!
Cheers,
Brian Byers
President