Featured Call of the Month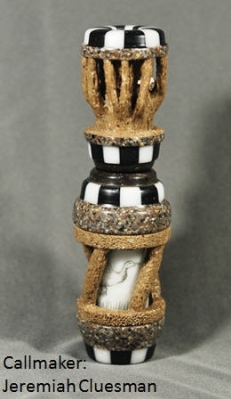 Bybee, TN
This is Jeremiah's call in the Amateur Open Division this year at St. Charles. It was his first entry in this competition and he took 2nd Place! His mixed use of a variety of materials is incredible and really sets him apart. Congrats and great work Jeremiah!
President's Note
The
50th Anniversary of the North American Vintage Decoy and Sporting Collectibles Show
in St. Charles, IL, has recently concluded. This is the largest gathering of its kind in all of North America. From a callmaking standpoint, this show and the NWTF are the "Top Gun" events of the year! 43 calls were submitted by 24 different callmakers to make for some incredible competition. Congratulations to Ron Gould for his Best of Show award...2 years in a row! Our annual call auction and pizza party was very well attended and a lot of fun. The competition was full of talent and we as an organization are on solid ground and growing! We are so grateful to everyone that helped make this a huge success for us. Special recognition goes out to our good friends at Midwest Decoy Collectors Association for all their support.
Our attention now turns to the Reelfoot Show in October in TN. I know that's a ways off, but book your room early to be sure you secure a spot. This show is quickly becoming a highlight of the year. For more info, please see the banner right here on our homepage.
I hope everyone has a safe and enjoyable Summer.
All the best,
Rick Milligan
President